Society honours composer Neil Brand for his new Robin Hood film score

The World Wide Robin Hood Society have made composer and broadcaster, Neil Brand, an Honorary Member in recognition of his emotive new film score for the iconic 1922 silent movie classic "Robin Hood" starring Douglas Fairbanks.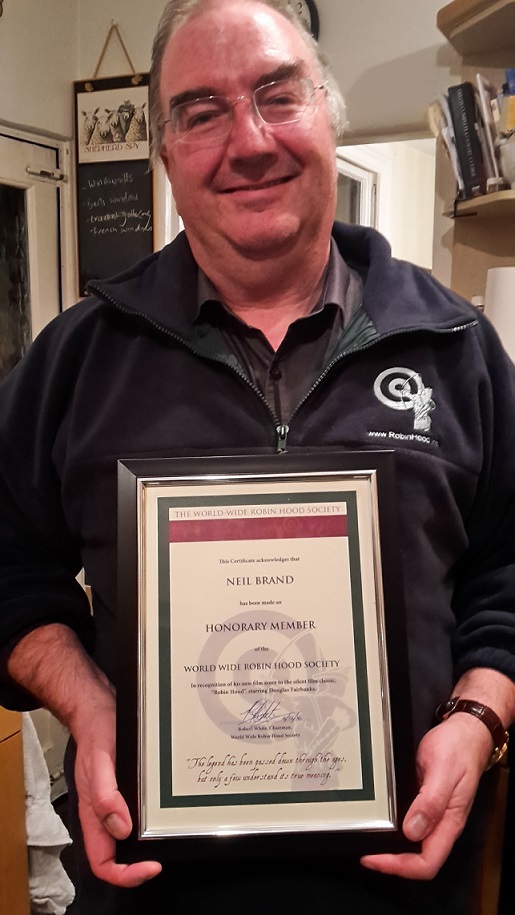 The new score was premiered at London's Barbican on 24th October, 2016, where the 90-piece BBC Symphony Orchestra, conducted by Timothy Brock, carried an enthusiastic audience with them as they complimented the action played out on the screen behind them. From rousing fanfares and clashes in combat, to more subtle emotional encounters, the exciting new score faithfully reflected the changing moods of the film.
Society Chairman, Bob White was at the premiere and commented, "The combination of the film with this vibrant new musical score really captured the imagination and breathed a fresh vitality into the 94 year old movie. The composer was clearly delighted with the performance and rushed on stage at the end to congratulate the orchestra and to thank the audience for their generous response and it was at that point that I decided that Neil Brand's work was most definitely worthy of recognition by the World Wide Robin Hood Society."
"It's hardly the New Years Honours List!" said Mr. White, "But it has been a long time since the Society last inducted an Honorary Member and Neil Brand will be joining the exclusive company of existing honorary members that includes Jonathan Ross, Brian Blessed and the present day Earl of Huntingdon, William Hastings-Bass."
Neil (photo on the left) was delighted to accept the honorary membership and said he had wanted to score a Fairbanks film for many years because he loved the actor's sense of joy. To mark his induction he will receive a framed, specially designed Honorary Membership Certificate, together with a World Wide Robin Hood Society fleece and a pair of Robin Hood cuff-links.
The Barbican premiere was described in the programme as "The chance to watch a blockbuster film with a full orchestra makes this no ordinary trip to the pictures, but a gala event." And it certainly didn't disappoint. Now there will be the chance to see the spectacle again on Friday, February 25th, 2017 at SaffronHall, Saffron Walden, Essex. (Details at: Robin Hood - Saffron Hall). Don't Miss It!