Robin Hood features in the isle of man's 2016 Christmas stamp collection

Robin Hood's popular role in the traditional "Babes in the Wood" pantomime has secured him a place in the Isle of Man Post Office's fun filled set of stamps celebrating the world of pantomime at Christmas. His trademark "hat with a feather" features on the 1.86p stamp - one of a series of six designed and illustrated by The Fresh Group.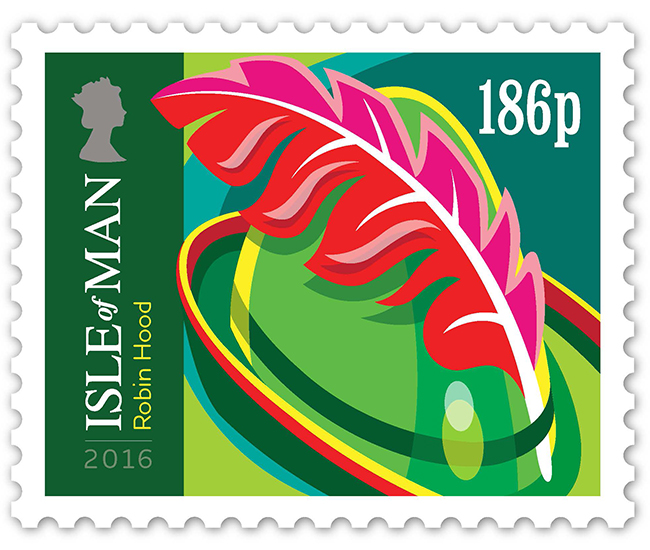 The collection of stamps reflects some of the nation's favourite pantomimes and each stamp incorporates a metallic silver Queen's head and an iconic image in an array of vibrant colours. The 45p stamp shows an image of the ruby slipper from The Wizard of Oz; the 77p stamp depicts Captain Hook's hook from Peter Pan and the 95p stamp features the lamp from Aladdin. Snow White's rosy red apple is featured on the £1.13 stamp with a bite taken out; a £1.24 stamp features an image of Dick Whittington's knapsack and stick and the £1.86 stamp features Robin Hood's hat.
Maxine Cannon, General Manager of Isle of Man Stamps and Coins, said "We are pleased to present our Christmas stamps for 2016 with a set of iconic images from one of the seasons best loved traditions, the pantomime. We hope that both those sending their post at Christmas and collectors alike will enjoy these beautiful stamps."
The stamp collection comes with a text by popular British panto performer, Christopher Biggins and can be purchased at www.iompost.com/panto
Bob White, Chairman of the World Wide Robin Hood Society commented, "The inclusion of Robin Hood in this delightful set of colourful stamps shows yet again just how popular the legendary Sherwood Forest outlaw has become. In fact, in recent years, many productions have reflected this by re-titling the traditional pantomime "Robin Hood and the Babes in the Wood."